Submit/Update Profile

Search the Network:
AN News
Golf - Old friends, new wheels: UL golf team donates car to longtime supporter
Ken Stickney, Acadiana Advocate, May 1, 2021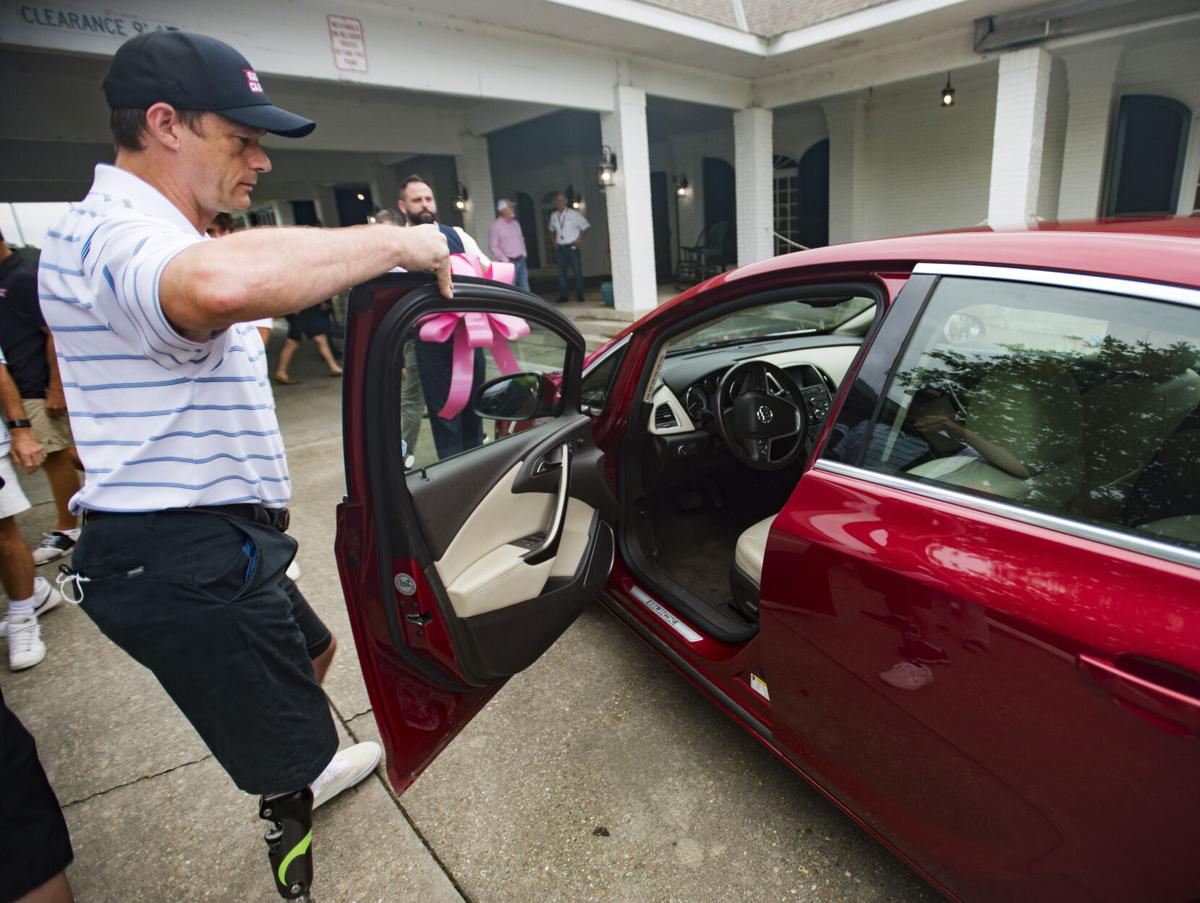 Lane Wiley checks out his new license plate while sitting in his new car, which was given to him by the Ragin' Cajuns Golf Team on Friday, April 30, 2021 at Oakbourne Country Club, Lafayette, LA. Photo by Leslie Westbrook.


Lane Wiley took one step toward his new wheels, hesitated and held his chest, overwhelmed with gratitude for what people affiliated with the University of Louisiana at Lafayette golf team had done for him to show their appreciation for his support.
On Friday, Gerald Hebert, UL athletic development director; golf coach Theo Sliman; Don Hargroder Jr., general manager for Courtesy Automotive; and nine golf team members led Wiley from a team meeting inside Oakbourne Country Club and out the front door, where a low-mileage 2015 Buick Verano sat waiting for him, a bow on the hood.
The group and other supporters had chipped in to buy the vehicle for Wiley. Delta World Tires has volunteered to handle maintenance for him.
"Oh, my God," Wiley said. "Oh, my gosh."
The car was a big step up from his 1993 Honda Accord with 120,000 miles and no air conditioning. Wiley accepted the keys from Sliman, wiped his brow, then hugged the coach who's been at UL for 13 years.
Sliman met Wiley more than two years ago through Hebert, Wiley's neighbor in Bendal Gardens. Wiley lives there with his mother.
The relationship between Wiley, a golf enthusiast, and the Ragin' Cajuns team started that day. In an unofficial capacity, Wiley visits the golf team, usually at least one morning a week, as team members practice at their facility at the country club. Sometimes he'll hit balls with them or chip and putt with them.
Wiley, 49, said he treasures the golf team's company. Born with one arm, one leg and four fingers on his lone hand, Wiley played the game for some 30 years, and once won a first-flight title at the National Amputee Golf Championship, with birdies on the last three holes.
He attended the San Diego Golf Academy for two years and improved his game — twice he's shot a 76 — but misalignment troubles with his prosthetics have cause lingering pain.
These days, he mostly putters around the game.
Team members sprung the surprise gift on Wiley near the end of a team meeting. Wiley had been away from the practice facility throughout much of the pandemic but returned to practices about a month ago, after he'd finished his COVID-19 vaccine shots.
Peter Hinnant, a senior from Winston-Salem, North Carolina, stood to tell Wiley how much the team appreciated having him back at practice. The team recently fared poorly in a tournament and Hinnant said, "There's no better person to look to for dealing with adversity."
"We're glad to have you back," said teammate Justin Caldwell, a senior from Ponchatoula. "You help us push each other to be the best we can be."
Hebert then added the group had "something a little more impressive" than expressions of thanks and led Wiley to his new ride.
Hebert said he and others had planned the surprise for some time, but it was delayed because of family health issues and the coronavirus. In the end, he said, "everything turned out wonderful."
Wiley has lived in Lafayette most of his life, attending public schools before earning his GED, and studied art at UL for three years. Among his jobs, he's worked in a golf shop.
He looks considerably younger than his 49 years, but he said, "Sometimes I feel 89."
But not around the golf team.
"Everyone is very positive around here," he said. "I have to surround myself with positive people. It's a nice break to just come here and hang around."
He said he loves golf because it's a sport he can do on his own, like skateboarding and surfing, which he did as a kid. He said he's done a "lot of amazing things" in his life and has to remind himself that, despite his challenges, he needs to pat himself on the back.
Hinnant said Wiley's influence on the team comes by his example more than by his words. He said Wiley sometimes opens up to the team and talks about life experiences.
"Everyone has their own problems," he said, "but then you would hear about him getting new pieces on his prostheses and how hard that is, and you get a new sense about life. My problems are nothing."
"He's an inspiration to all of us. He's pushed us to be our best," Caldwell said.
Providing Wiley with a car, Sliman said, taught golf team members some lessons that extend beyond the course. Part of being a coach, he said, is teaching players manhood — what it means to be a father, a husband, a friend to others.
As Wiley looked over his new car, Hebert realized there was a problem: Wiley had driven his own car to the country club and now had to drive two cars home.
"Not a problem," Wiley said. "I can hit a driver with one hand. I can figure it out."
---
Send this Page to a Friend!
Print Page