Advocate Staff Report, Morning Advocate, Feb. 24, 2019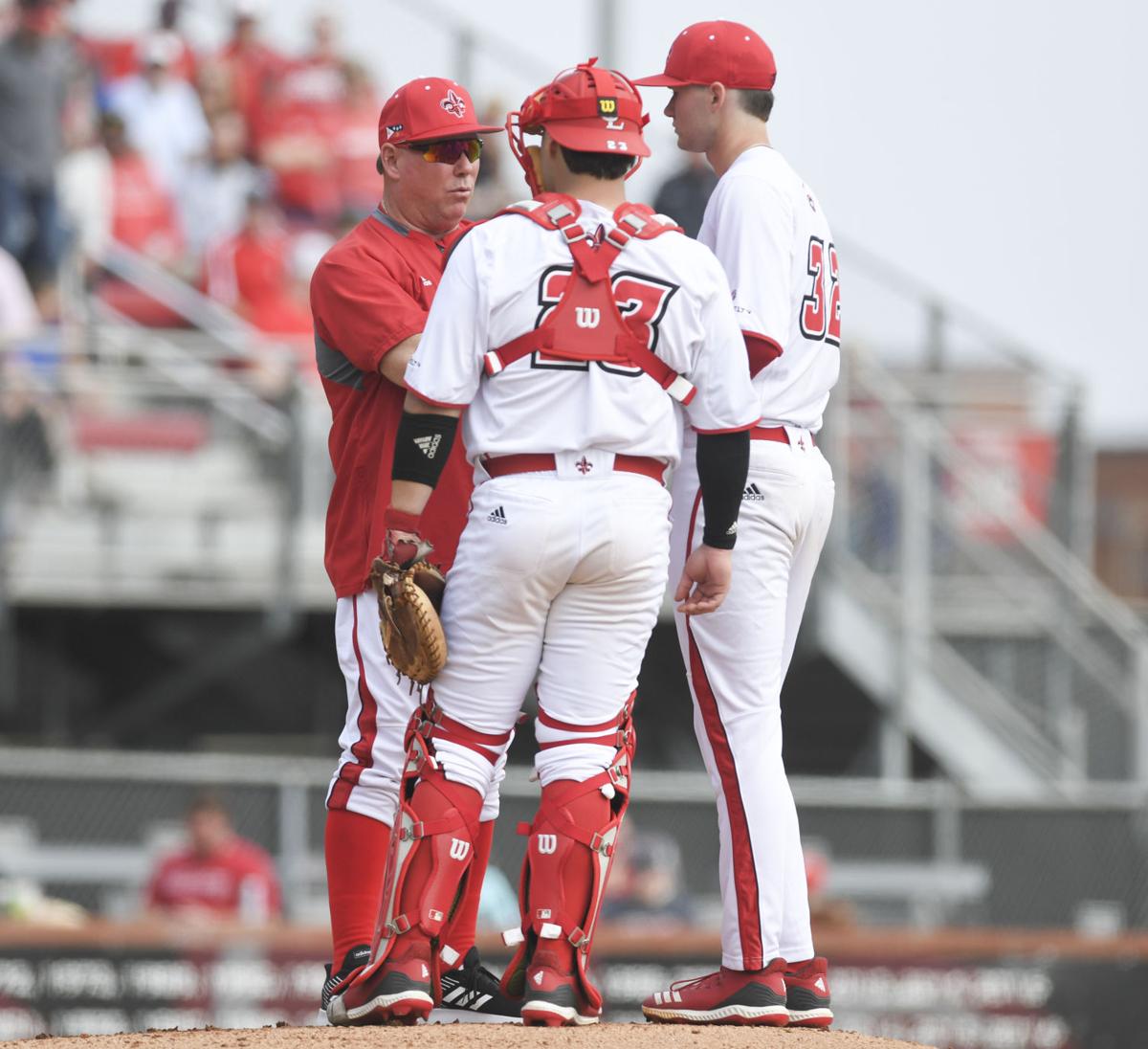 UL coach Tony Robichaux, left, made many agonizing trips to the mound in watching his Ragin' Cajuns get swept at Sam Houston State over the weekend.
Advocate Photo by Brad Kemp
HUNTSVILLE, Texas — The late innings continued to be a nightmare for the UL Ragin' Cajuns baseball team.
In blowing two big leads in getting swept by Sam Houston State in Saturday's doubleheader, the Cajuns' pitching staff gave up a combined 15 runs in the final three innings of each game.
On Sunday at Don Sanders Field in Huntsville, Texas, that number grew to 21 when the Bearkats broke open a tight 3-2 game with six runs in the bottom of the eighth inning to complete the weekend sweep of the Cajuns in style with a 9-2 victory.
The Cajuns fell to a 1-6 start to the season and will next play against Southeastern at 6 p.m. Tuesday in Hammond. It's the worst start since the Cajuns began the 2003 season 1-6, before finishing 29-30. UL was 1-5-1 in 2009, finishing 27-30-1 that season.
For the third straight game over the weekend, the starting pitching was good enough to win for the Cajuns. Jacob Schultz only lasted three innings, but he allowed just one run on three hits with three walks and one strikeout.
The bullpen didn't provide much relief once again. Michael Leaumont allowed two runs on five hits with a walk and no strikeouts in three innings before freshman right-hander Connor Cooke suffered through his first rough outing at the Division I level. Cooke yielded four runs on three hits with a walk and no strikeouts in 1â…" innings.
And like a broken record, doing the bulk of the damage against the Cajuns' pitching staff was leftfielder Clayton Harp. Entering the series off to a rough start at .071, Harp began Game 1 with a game-winning homer on Saturday and was right in the middle of the six-run eighth in the series finale with a three-run home run. On the day, Harp of 3-for-5 with a home run and four RBIs.
Gavin Johnson, who hit a critical three-run homer in the eighth inning of Game 2 Saturday, continued to feast on UL pitching by going 3-for-3 with an RBI Sunday.
UL was paced offensively by Daniel Lahare at 2-for-4 with an RBI, Hunter Kasuls at 2-for-4 and O'Neal Lochridge drive in the Cajuns' second run during a 1-for-3 day at the plate.
Getting the win in relief for Sam Houston State was Brad Demco, who recorded a strikeout in two-thirds of an inning. Riley Gossett went the final three innings — allowing two hits and striking out two — to record his first save of the season.
Athletic Network footnote by Dr. Ed Dugas.
Mar 1 (Fri) host Maryland in three-game series.