Submit/Update Profile

Search the Network:
AN News
Golf: Cajuns finally tee it up, revel in new golf facility
July 13, 2017 DAN McDONALD | Special to The Advocate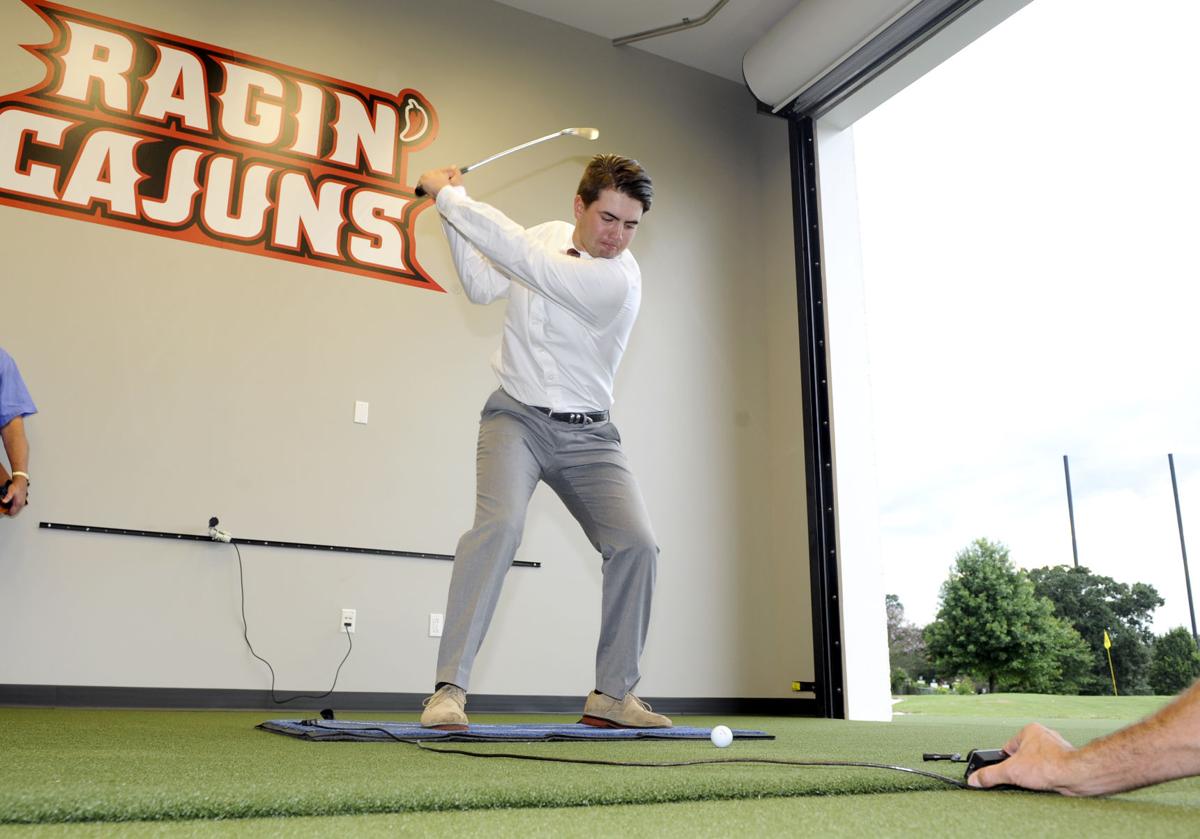 Brad Kemp, Ragin' Cajuns Sports
The rains went away just in time Thursday for UL-Lafayette to formally cut the ribbon and dedicate its new 4,000-square-foot golf facility at Oakbourne Country Club.

But even if the rain hadn't abated, Baton Rouge junior Triston Elston would still have been able to hit the ceremonial first shot out of the all-weather and technology-loaded hitting bays that highlight the $600,000 facility.

"This place gives us every opportunity to succeed," said Elston, who represented his Ragin' Cajun teammates in a group that cut the ceremonial red ribbon in front of a crowd of approximately 200 Cajun supporters and Oakbourne members. "It's not just playing success, although it will do that. It will give us a great place to interact with the members here, and develop relationships that will affect the rest of our lives."

Thursday's ceremony was the third attempt at an official opening after rain had pushed the ribbon-cutting back on two previous occasions. The skies were still threatening during the 45-minute ceremony, but UL-Lafayette president Dr. E. Joseph Savoie said the weather wasn't going to dampen his enthusiasm.

"I was going to go for about 20 minutes and provide some golf tips," he said. "But I guess I better not do that. I'm going to leave that to the people that know golf."

Savoie joined Elston, UL-Lafayette director of athletics Dr. Bryan Maggard, coach Theo Sliman, UL Foundation president Wayne Elmore, Oakbourne president Kevin Gayle, Jr., major donors Don and Brad Mosing, Oakbourne head professional Cliff Wagner and Vermilion Links president David Church for the official ribbon cutting.

The Mosings each made a start-up $200,000 contribution toward the facility, and another $250,000 was provided and pledged by the Vermilion Links Club, the official support organization for the Cajun golf program.

"If you spell golf, it starts with a 'G'," Sliman said, "and today that is for gratitude. It was two years ago this month that Jeff (former Oakbourne president Jeff D'Amico), Brad, Cliff and I sat in the grill here at Oakbourne and talked about having a facility like this. But this started a long time before that."

Sliman was referencing the unique family tree that has led the Ragin' Cajun golf program. Long-time coach Bob Bass, the coach on the all-time Sun Belt Conference team was on hand. His father Bill Bass was the program's first coach and also was one of Oakbourne's founders. In addition, Sliman's father Teddy Sliman also served as Cajun head coach.

"No other program anywhere has this kind of legacy," said Gayle. "It's that kind of tradition that forms the structure of this club and our university, and now we have a structure for this program."

Construction began in October on the two-building facility. One building includes a locker room, offices a lobby and other facilities, and the other includes three all-weather hitting bays outfitted with state-of-the-art technology. Wagner will have use of one of the bays with the other two reserved for members of the Cajun squad.

"With all of this, we're not just playing a guessing game anymore," Elston said of the first-ever "home" facility for the UL-Lafayette program. "Using all of this technology, there's always a definite answer when we have a question. And it's in such a supportive environment here at Oakbourne."

"We've got some great facilities here," said Maggard, who took over as AD earlier this year, "and this clubhouse and facility is no exception. This is going to help us recruit premier talent, and help our current student-athletes improve their game and improve themselves."

Local architect Knobbie Langlinais designed the facility, which matches the traditional Oakbourne clubhouse in exterior design and appearance. John and Buzzy Thompson of Thompson Bros. Construction led the construction crew that brought the facility in on time.

Gayle officially handed the keys to Savoie, who in turn handed them to Maggard, who in turn presented the keys to Sliman.

"No one here is more proud than he is today," Maggard said of Sliman, who is in his ninth year as coach of the UL program. "He's the son of a coach and a former player here, and in the time I've known him I've already seen that he is not just the leader of a golf team, he is a leader of men. I couldn't be more happy for him."

Athletic Network Footnote by Dr. Ed Dugas:
Click here for story by Dan McDonald announcing the dedication.


---
Send this Page to a Friend!
Print Page