AN News


Former Gymnastics/Trampoline: Alum Hennessy Robson jumping for joy to enter athletics hall of fame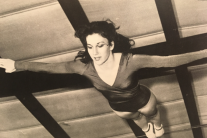 Photo caption: Alum Leigh Hennessy Robson parlayed her skills as a world champion trampolinist into a career as a Hollywood stunt person. She will be inducted into the Louisiana Athletics Hall of Fame Saturday, Nov. 2, during halftime of the Homecoming football game. Her father, Jeff Hennessy, will be inducted posthumously. He was longtime trampoline coach at the University
Alum Leigh Hennessy Robson has earned paychecks for jumping off the 6th street bridge in Los Angeles and tumbling out the open door of a speeding car.
Hennessy Robson, '85 and '91, is a Hollywood stunt person. A former trampolinist at the University of Louisiana at Lafayette who went on to become a world champion, she will be inducted into the Louisiana Athletics Hall of Fame Saturday, Nov. 2, during halftime of the Homecoming football game. The Ragin' Cajuns will face the Texas State Bobcats at Cajun Field. Kickoff is 4 p.m.
Her father, Jeff Hennessy, will be inducted posthumously. He was longtime trampoline coach at the University who helped the sport gain international prominence in the 1960s as the U.S. trampoline team coach.
The pair are the first father and daughter ever inducted into the USA Gymnastics Hall of Fame. Their induction into the University's Hall of Fame is bittersweet, but meaningful, for Hennessy Robson. "It would have been huge for my father, because the University is where he made his dreams come true, so it means a lot to me to honor him in this way."
Hennessy Robson inherited her father's affinity for the trampoline as a kindergartner. She would tag along with him when he went to train the athletes he coached. Jeff Hennessy also helped his daughter cultivate a daredevil's streak. He taught Leigh, her older brother and her younger sister motocross, scuba diving, water skiing and other adventurous pursuits.
"We had a very active childhood. We tried everything, and there was no fear in our family," she said.
After a childhood spent competing in trampoline tournaments around the world, Hennessy Robson, a Lafayette High School graduate, joined the program her father had started at the University. She earned a bachelor's degree in speech pathology and audiology and a master's degree in communication.
Following graduation, she competed internationally, but retired in her early twenties. She started competing again in her early thirties, then retired for good in her late thirties.
Her jump from the trampoline to the silver screen wasn't a straight one. Hennessy Robson was a gymnastics coach and worked for U.S. Congressman Jimmy Hayes in Washington D.C.
As an athlete accustomed to the adrenaline of competition and a regimen of daily training, she quickly realized a nine-to-five grind wasn't for her. "I hated sitting at a desk all day. I'm a Type A. I need to move," she explained.
"I ended up leaving Washington – literally sold everything I owned, bought an old jalopy and drove across the country to California."
The seeds of her stunt career were planted when she began working out at a gymnastics club that had trampolines. "A lot of stunt people trained there, and they encouraged me to try it."
She got her break when she was cast for a Ralph Lauren sportswear ad that required jumping on a trampoline. "It was a one-day shoot on the cliffs over Santa Barbara. I was sold."
Hennessy Robson honed her craft on trapezes and special trampolines designed to cushion high falls in the backyard of a circus performer. "We would practice fighting and falling and anything you can think of. That's where I practiced most and that's where I got the most exposure."
Work in films followed, and Hennessy Robson gained a reputation as skilled stunt person.
She's appeared in over 100 movies and TV series, including "G.I. Jane" starring Demi Moore. The film is about the first woman given a shot at becoming a SEAL, a member of a special operations unit for the U.S. Navy.
In 2007, Leigh was nominated for a World Stunt Award – the Hollywood equivalent of an Oscar Award – for her performance as a drowning victim in "The Guardian," about a U.S. Coast Guard rescue swimmer played by Kevin Costner.
She and husband Mark recently moved to Lafayette, purchased a Victorian-style home, and write books and travel to their farmhouse in the countryside of Scotland, where Mark is from.

Hennessy Robson stays fit by walking and with yoga, and despite two knee replacements from her trampolining days, still occasionally does stunt work.
"I'm more than happy to do stunts for anyone who will pay me," she said with a laugh.
---
Send this Page to a Friend!
Print Page